Submitted by: DiscoverWaterbury.com
Waterbury is the perfect place to experience the best of our region, offering unrivaled places to explore, play, dine and shop. Located just a quick drive from both Burlington and Montpelier, Waterbury is a great place to meet friends, or for an easy family getaway right here in the heart of the Green Mountains.
Waterbury's local setting makes for peaceful rambling hikes, invigorating mountain biking, and fun family treks – time well spent whether among the forest trees, along our sparkling rivers or on the reservoir. The opportunities are endless for people of all ages and expertise by foot or by bike!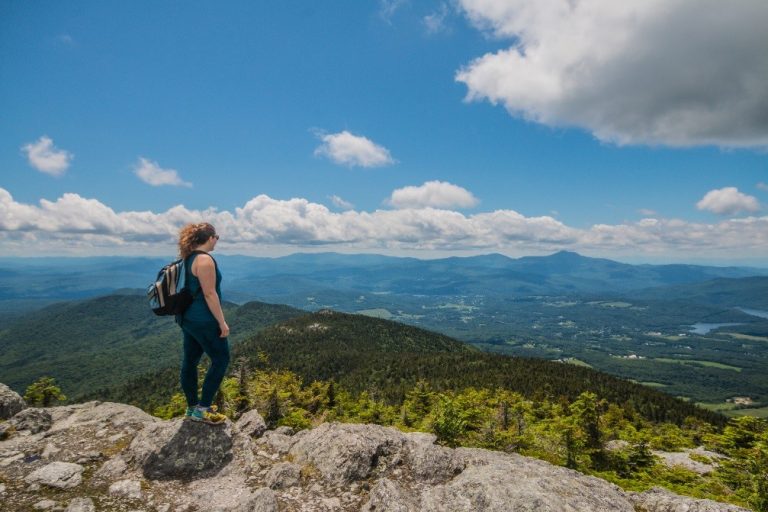 In Waterbury's historic downtown, independent boutiques and stores feature local artists and finds for everyone. There are wonderful places to pick up items for the home or gifts for any occasion such as at the Stowe Street Emporium, The Tiny Acorn or Bridgeside Books.
Delicious and quick meals to-go can be found at Stowe Street Café, K.C.'s Bagel Café, or the Village Market. You can even bring along your 4-legged family member to experience Waterbury Unleashed, our safe and accessible dog park.
Eat, Drink & be Merry 
Dining in Waterbury is fun and varied and the town continues to be a center for imaginative dining made by creative, award-winning chefs using the abundant fruits of our local landscape. Early fall is full of vegetables, fruit, meat, cheese, maple, and other specialty products direct from local farms.
Waterbury's full spectrum of restaurants range from New York style bagels to barbecue, classic diner fare to romantic, farm-to-table dining, and quaint cafés to perfect pub nachos. Our best kept secret is our very own hole-in-the-wall Mexican favorite, Atzlan Foods, with the best burritos this side of the border. Join us for a meal or a snack on any budget and taste the flavors that now call this part of Vermont home.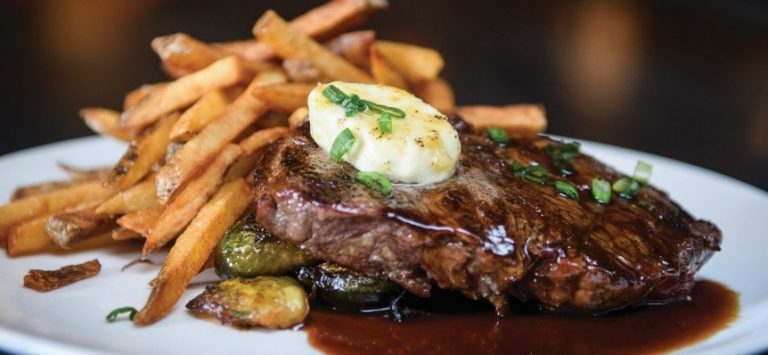 Cheers to our Breweries
Waterbury is commonly known as a world-class beer town. Unmatched regionally crafted beers on tap or by the bottle are featured at Prohibition Pig, The Reservoir Restaurant and Tap Room, Craft Beer Cellar and the Blackback Pub as well as many other well-stocked shops and restaurants. New to Waterbury is The Wine Vault, offering wine tastings every Friday.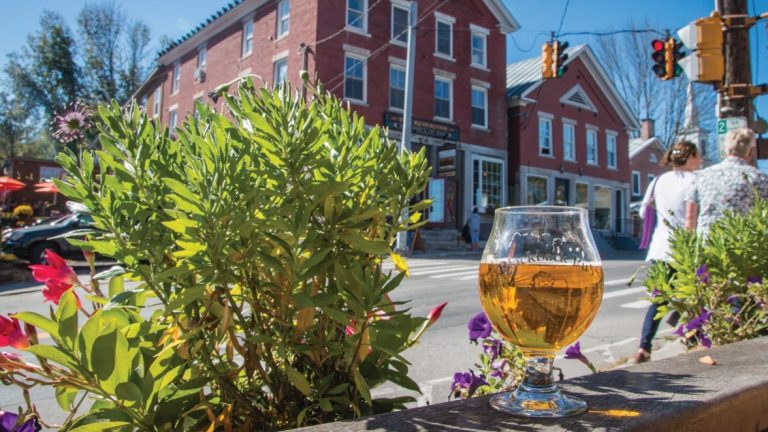 This vibrant small town is perfect for a memorable meal, specialty shopping, to impress visiting relatives or to simply meet friends.
So Much to See and Do…
Enjoy a hike with history in Waterbury
Hike through the Depression-era remains of Little River State Park's Camp Smith where 2,000 Civilian Conservation Corps members lived and worked while they built the massive Waterbury Dam. Or discover the cellar holes and cemetery on Ricker Mountain, once a thriving 1800s farming community.
Take Waterbury's food adventure tour
Cider donuts and coffee, beer, cheese, tea, chocolate and ice cream… most locals know that a drive through Waterbury can be a foodie trip from heaven. Starting in town with the Green Mountain Coffee Café and Visitors Center, proceed up Route 100 on the Green Mountain Byway for Ben & Jerry's ice cream, Cabot Farmers Store, Lake Champlain Chocolates, the Woodstock Farmers Market, Vermont Artisan Coffee & Tea, and Cold Hollow Cider Mill.  All convenient destinations, where you can learn, sample and enjoy these Vermont made products to your heart's and belly's content.
Discover the Arts in Downtown Waterbury
A walk in town will have you passing artist studios and galleries ready for you to explore. Whether a potter, painter or sculptor, our artists want to meet you. Step inside our shops where you will discover contemporary art and unique artisan items by emerging and established Vermont artists. Even as you enter into town, you can spot "The Waterbury Special," a train sculpture created by Vermont artist Phillip Godenschwager, on the railroad bridge at the roundabout.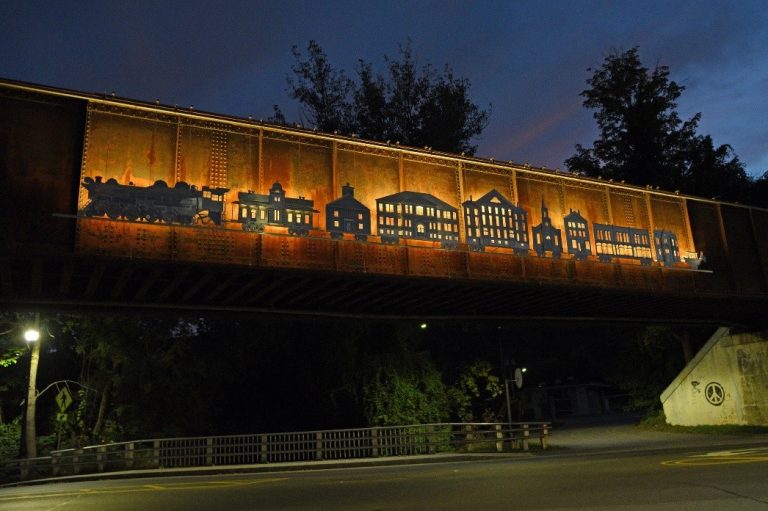 Linger longer, and stay
Even if you were planning a day trip, Waterbury may entice you to stay just a little bit longer. Filled with some of Vermont's most fun and accessible accommodations, you'll have your choice of many different stays, including cabins and tent sites, to a tree house, a stagecoach carriage stop, inns and hotels. Plan a staycation in Waterbury now!
It's impossible to list everything to do in Waterbury. You'll just have to stop by for a visit and discover it all for yourself! Visit DiscoverWaterbury.com for complete info.