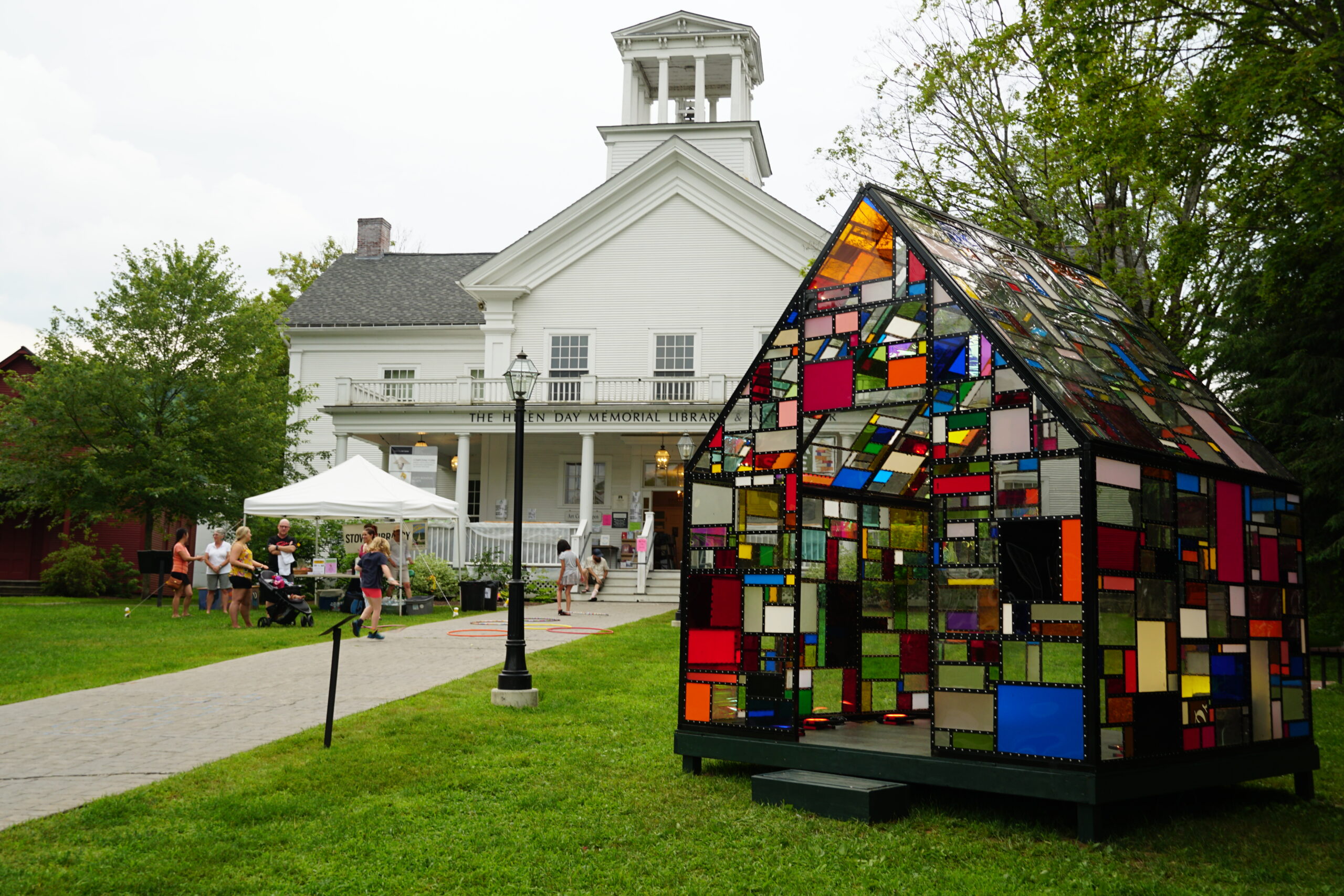 Culture
Green Mountain Byway Art, Food and Culture
Art, food and culture along the Green Mountain Byway captures Vermont's creative spirit. Village galleries display the work of painters and craftspeople, who draw their inspiration from the hills and valleys of Vermont. Performances ranging from theater to music take place in historic opera houses, summer meadows and on town greens. Outdoor festivals offer a chance for all to come out and celebrate the art, food and culture of the region. Public art brightens up downtown spaces. Local food and the historic role of African Americans also play important roles in Green Mountain Byway culture.
Destinations can be seasonal or have limited hours. Organizers recommend that visitors search online for schedules or call ahead to arrange a tour.
Art Galleries and Talks
Founded by noted landscape artist Alden Bryan, Bryan Memorial Gallery in Cambridge is one of the best-known spots for New England fine landscape art. The Gallery is a vital partner to contemporary artists and serves as a catalyst for Vermont art culture. Just down the road in Cambridge's village of Jeffersonville, visitors may stroll through the Visions of Vermont Gallery. The Gallery is comprised of buildings with collections carefully curated by Terry and Jane Shaw. Within, historic architecture meets the beauty of Smugglers' Notch landscapes created by more than a dozen master artists. Read more here about the culture of art and artwork in Jeffersonville.
Waterbury is also home to a variety of artists and galleries open to the public. Check out this rundown of the many types of art that make Waterbury a vibrant place to live and visit. Wander through town and see how many displays, shops, and expressions of art you can spot!
Stowe's The Current (formerly the Helen Day Art Center) offers a robust schedule of exhibitions and art education. In addition to the gallery of professional art, The Current presents art programs like the art justice project and student art. The Art Lounge cafe offers wifi, a gift shop and art library.
In Johnson, visit the contemporary Julian Scott Memorial Gallery at the Dibden Center for the Arts,. The Gallery is Northern Vermont University's main visual arts exhibit venue. Over the last 30 years the Vermont Studio Center in Johnson also has grown. The program has become the largest international artists' and writers' residency program in the United States. They provide studio residencies in an inclusive, international community. The Red Mill Gallery hosts exhibits by staff, trustees, community, and international artists whose University fellowship includes an exhibition component. Read more about the Vermont Studio Center. Tucked away in the artist enclave of Johnson, Minėmå (min-AH-ma) is a micro contemporary public art gallery. The focus is on creating an inclusive space that fosters diverse artistic dialogue, sensory impulses, and social change.
Art Classes
For those who wish to participate, art classes are available for the casual crafter to the accomplished artisan. River Arts in Morrisville includes galleries, a pottery studio, and a gift shop featuring local artists. Classes and programs are available year-round at this community arts center, as well as open clay studio time. The Current in Stowe also hosts youth and adult classes, private lessons and summer camps. Gallery events are also widely available in towns along the Green Mountain Byway, particularly in the summer months.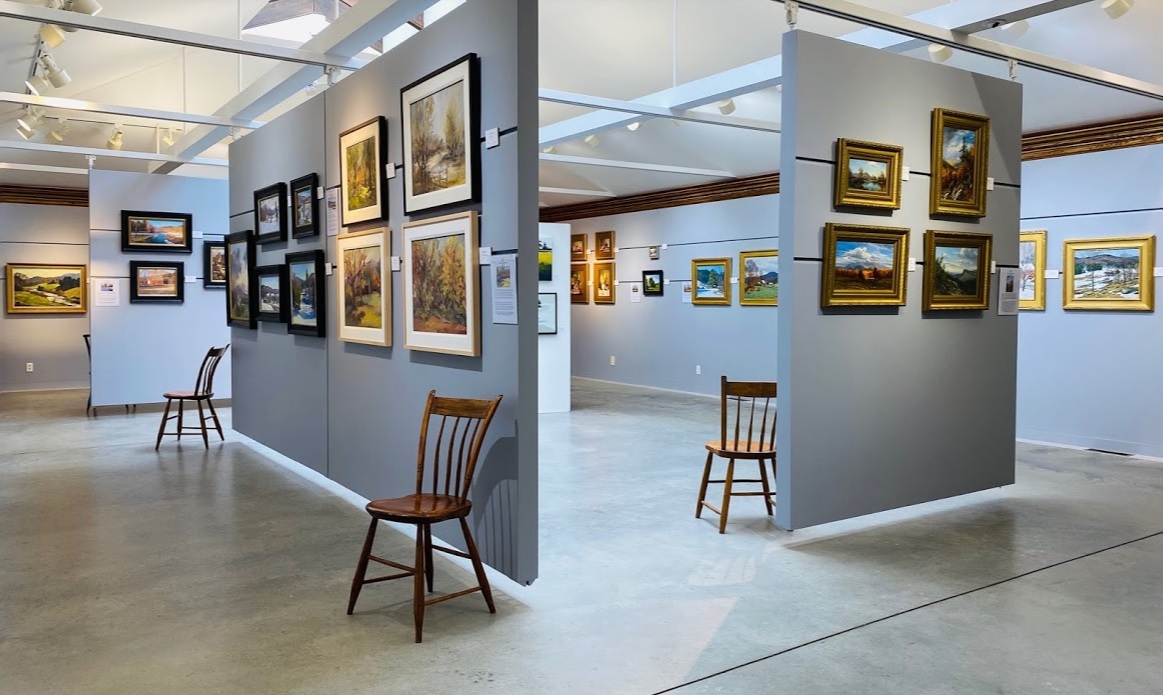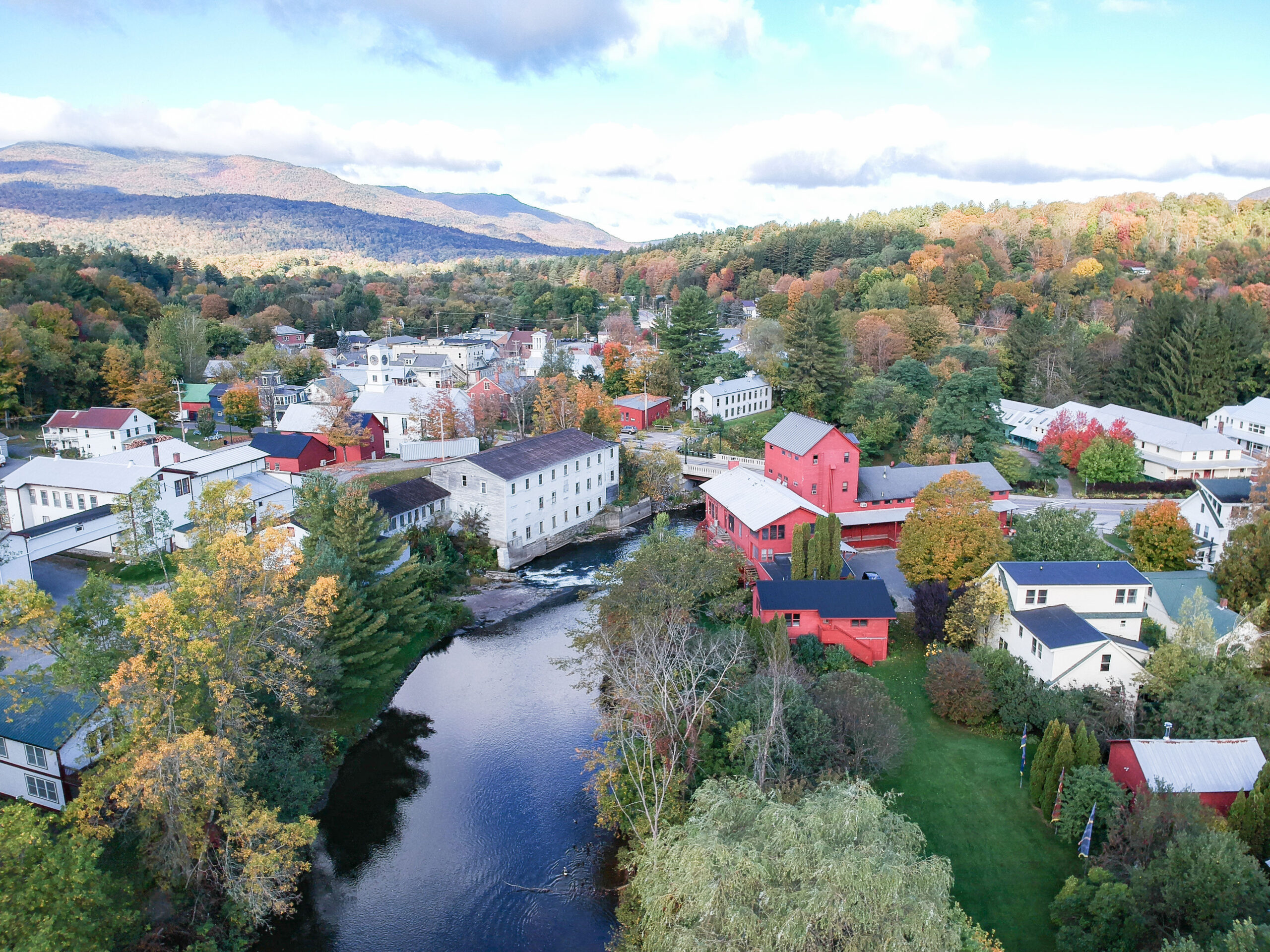 Music and Theater
Vermont's historic Opera Houses play a significant role in Green Mountain Byway art culture. Hyde Park Opera House, home of the Lamoille County Players, performs one major play each summer. The Opera House staff also organize a children's theater workshop. Other traditional community centers like libraries, grange halls and parks offer local music in a classic setting. Lanpher Memorial Library and Gihon Valley Hall in Hyde Park are two examples of recently renovated buildings with their own unique history and architecture. On the more modern end, the Dibden Center for the Arts at Northern Vermont University in Johnson hosts a wide range of performing artists, dancers and musicians.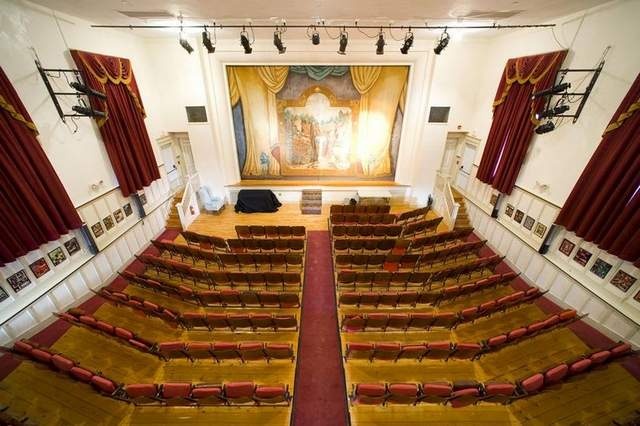 Outdoor Concerts and Arts Festivals
Summer means food and outdoor music at community concerts along the Byway. Tuesday Night Live, Johnson's weekly series, brings together food trucks and performers. Morristown has Wednesday Night Live and Music on Main on Fridays. Presented by Stowe Performing Arts, Stowe offers an eclectic mix of classical, jazz and funk in a biweekly summer Sunday series of Music in the Meadow at Trapp Family Lodge.
Timed with the Thursday afternoon Farmers Market, Waterbury offers a variety of family-friendly music with Concerts in the Park. The town also hosts the annual Waterbury Arts Fest, a two-day summer street fair with entertainment and artwork from some of the most talented performers and artists in the area. In the same vein, Morrisville, home of Rock Art brewing, hosts RocktoberFest. The autumn street festival features live bands, great food, free events like pumpkin bowling and face painting, and its famous chair-art auction.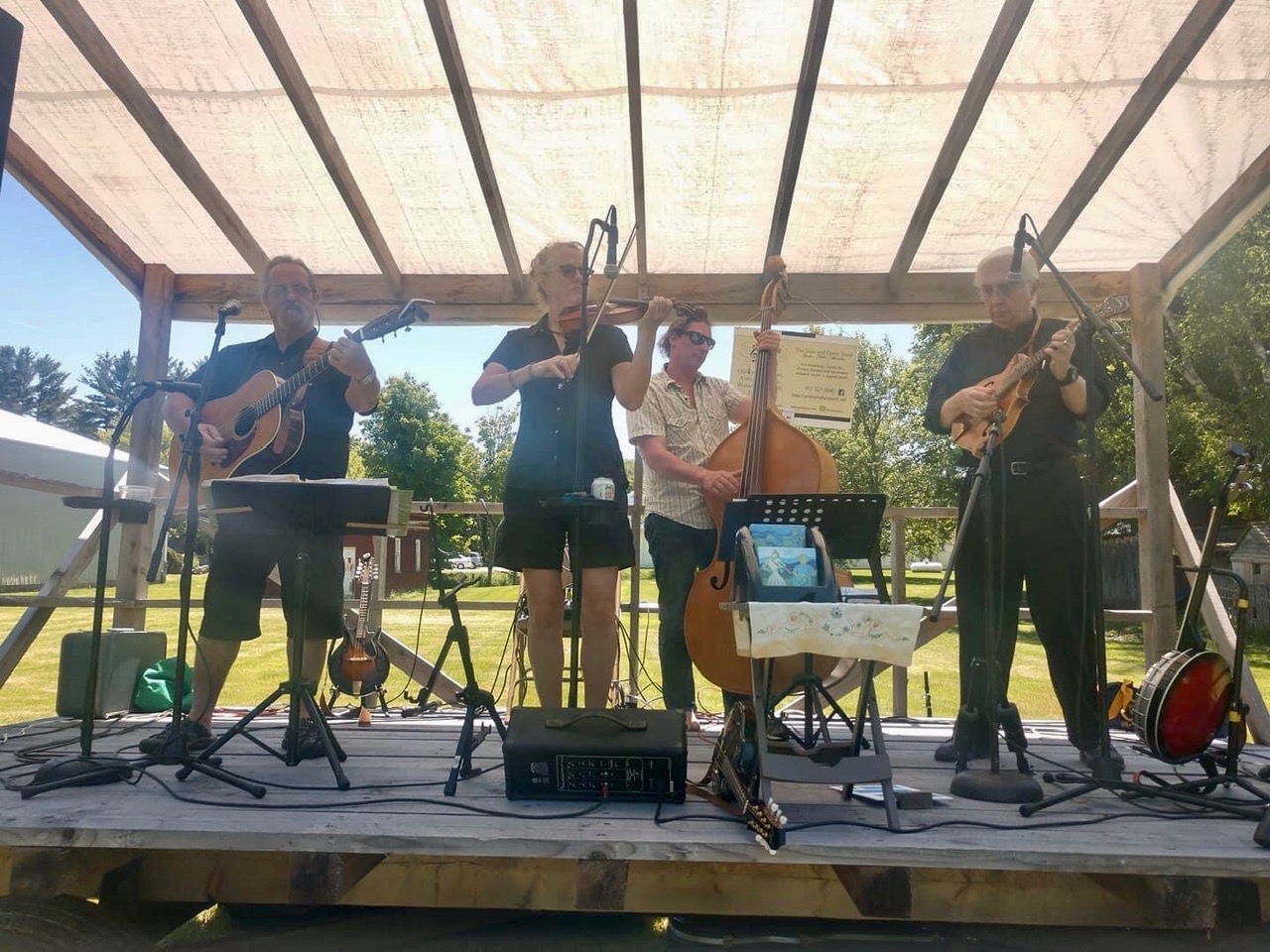 Public Art
Art in public spaces ranges from small and understated to large and striking. In Waterbury, a public art project called "Phoenix Rising"  commemorates the town's resilience in recovering from flooding caused in 2011 by Tropical Storm Irene.
At the roundabout where Route 108 meets Route 15 in Jeffersonville, painted full-size legacy grain silos each represent Vermont's heritage and future.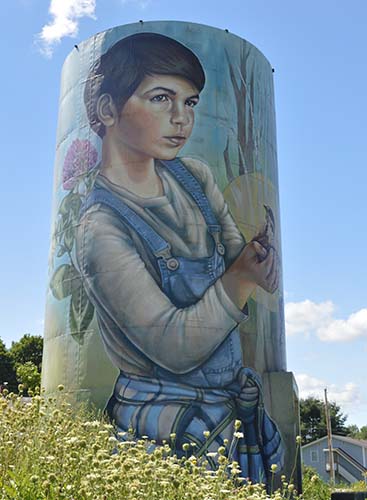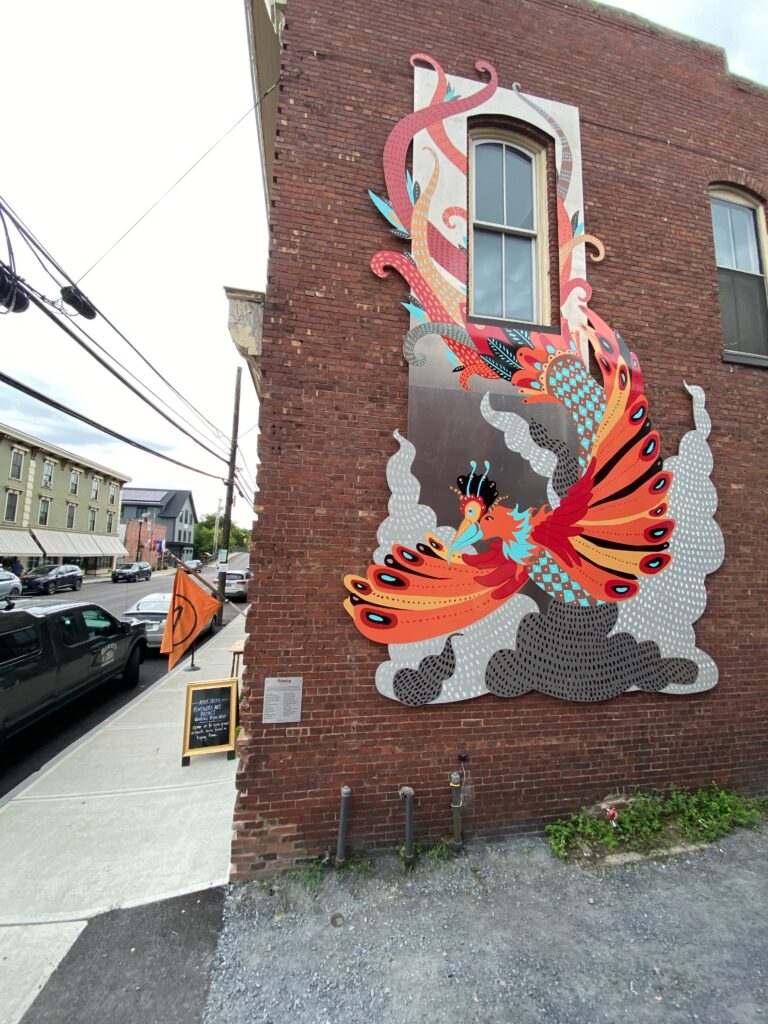 Local Food Culture
Local food sourcing supports Green Mountain Byway farmers and food producers. Vibrant farms contribute to the economy and offer fresh-from-the-ground choices. For instance, at Foote Brook Farm in Johnson, farmers grow 145 varieties of organic produce and visitors can choose their dinner ingredients from an on-site farm store.
Farmers Markets along the Green Mountain Byway are at the confluence of Vermont art, food and culture. Seasonal markets often feature produce, visual art, crafts, and music all in one social venue. For example, the Jeffersonville Farmers and Artisan Market hosts producers and musicians on Wednesdays from June to September. Similarly, the Waterbury Farmers Market celebrates Vermont's art and food culture on Thursdays in the summer. Seasonal markets pop up in indoor locations prior to the holidays in November and December, and reopen outdoors in May or June.
Farmland conservation has contributed to the long-term viability of agriculture along the Byway, bolstered by the work of Stowe Land Trust, Vermont Land Trust, and farmers/property owners committed to preserving the working landscape into the future.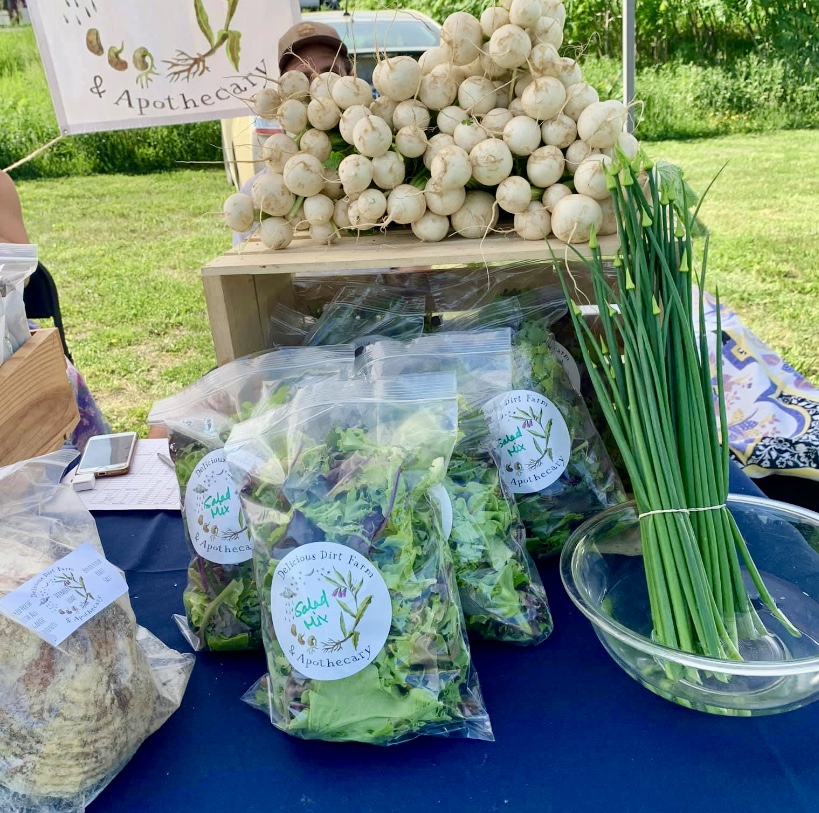 The African American Heritage Trail
The Green Mountain Byway is within a short drive of several African American Heritage Trail access points. Over the centuries, Black Vermonters have had a profound impact on agriculture, owned businesses, held public office, fought alongside fellow citizens in major wars, and worked to make Vermont and the nation a better place. The African American Heritage Trail is a statewide route that showcases Vermont museums and cultural sites where exhibits, films, tours, and personal explorations illuminate the lives of African Americans in the Green Mountain State. For more information and a map of stops along the Trail, see the Vermont Department of Tourism & Marketing website.