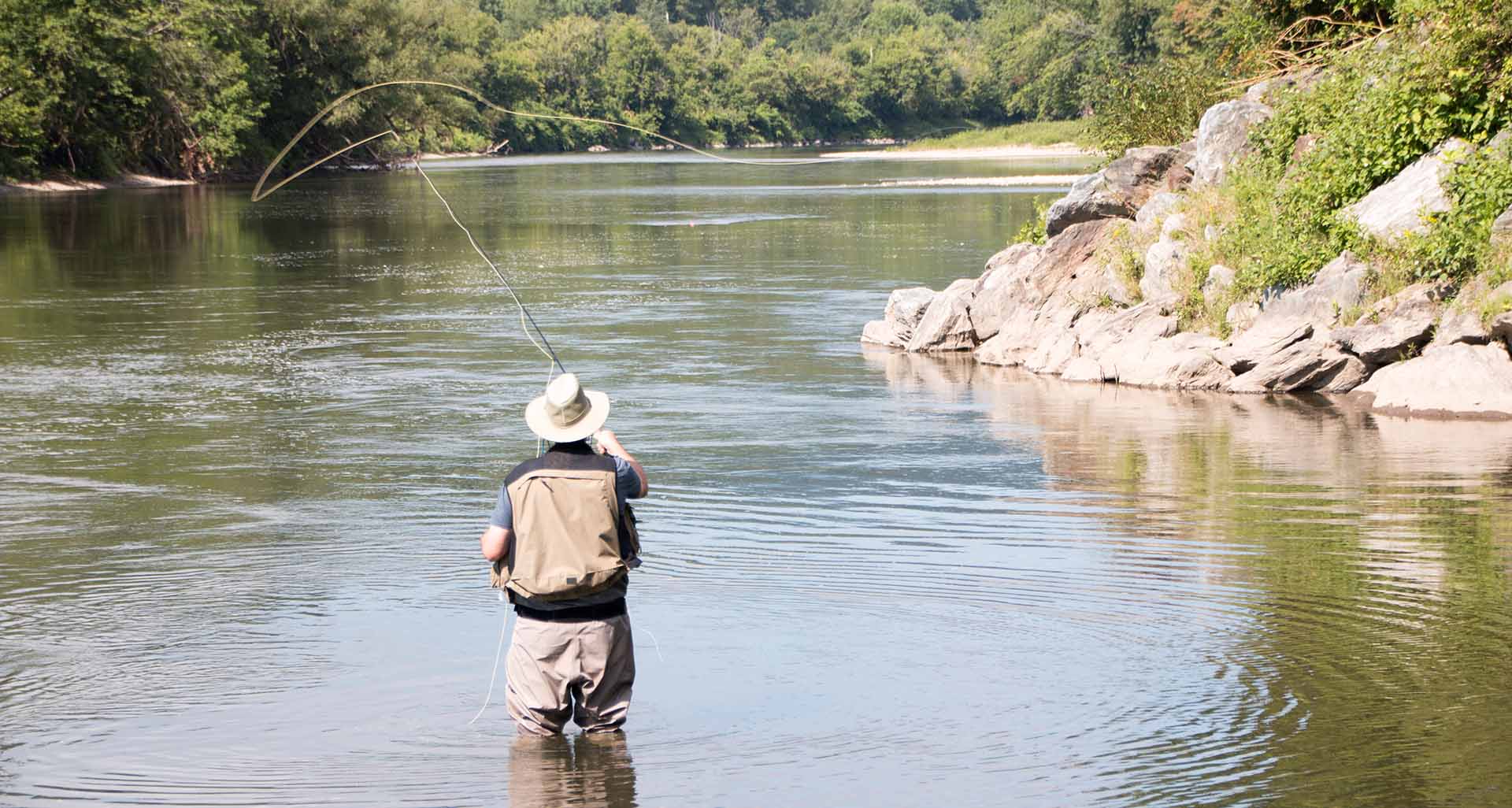 Biking and Winter Sports
Outdoor Recreation
Biking and winter sports are just some of the adventures that beckon along the Green Mountain Byway. The Byway provides four-season access to Vermont's premier outdoor recreational opportunities. The Byway offers a wide variety of summer and winter sports for all interests and ability levels.  Activities include world-class downhill skiing, snowboarding, cross country skiing, hiking, paddling, fishing, mountain biking, and road biking to name a few. Fall and spring are good times to take in the foliage, wildlife, the process of maple sugaring, or wildflowers. The Lamoille Valley Rail Trail & Lamoille River offer walking, biking, snowshoeing, cross-country skiing, snowmobiling, canoeing, kayaking, and fishing.
Road Biking and Mountain Biking
Warm weather activities like biking and winter sports like Nordic skiing often use the same land –  just in different seasons. The Lamoille Valley Rail Trail is one example of a four-season, multi-purpose recreation and transportation corridor. It bisects the Green Mountain Byway, with parking and access in Morrisville, Hyde Park, Johnson and Cambridge.
Smugglers' Notch Resort offers mountain bike rentals, lessons, and a terrain park. Other biking and winter sports paths can be found in the Brewster River Gorge in Cambridge.
In addition to the Stowe Rec Path,  there are also beautiful, scenic roads along the Byway. These scenic side roads provide for ample recreational road biking opportunities on both pavement and dirt roads.
Stowe and Waterbury are also leaders of the mountain biking trend. Both towns have seen growing participation in recent decades. New and expanded mountain biking trail systems on public and private land have fueled the sport's popularity. Adventure-seeking visitors will love the Byway's biking and winter sports trail systems. These include Perry Hill and Cotton Brook in Waterbury. In Stowe, Cady Hill Forest, Sterling Forest, Adams Camp and Trapp Family Lodge provide over 70 miles of trails suitable for mountain biking. Visit Stowe Trails Partnership and Waterbury-area Trail Association (WATA) for more information on local mountain biking trails.
Winter Sports
The Byway region is a winter-season mecca for winter sports. These include snowshoeing, snowmobiling, skiing, winter hiking, and even ice fishing. When the snow falls and the hearth feels cozy, Vermonters and visitors alike play in a whole new paradise under winter's crystalline vistas and bluebird skies. Winter biking and winter sports can also be done at once, on sturdy "fat" bikes with oversized tires for optimum grip on winter trails.
Stowe held its first Winter Carnival in 1921 with ski jumping, skating, and other fun-filled events. Stowe Mountain Resort started present-day lift-served skiing. The Mount Mansfield Ski Club opened a rope tow on the Toll House slope on February 2, 1937.
Stowe has since established its reputation as one of the premier ski resorts and vacation destinations in the world. Nearby Trapp Family Lodge is also a winter mecca for cross country skiing and snowshoeing. The Lodge offers over 60 km of groomed trails and 100km of back-country trails accessible from its ski center. The Town of Stowe also grooms the 5.3-mile Stowe Recreation Path for cross country skiing.
Locally owned and operated Smugglers' Notch Resort, established in 1956, has been ranked the #1 overall Resort in Eastern North America several times. It also has captured the #1 Family/Kid Friendly award for over 20 years. But this fantastic family-friendly Resort also has some of the most challenging terrain in the East. Die-hard skiers may take on triple black diamond trails such as Black Hole. In addition to downhill skiing and riding, cross country skiing and snowshoeing are available.
Hiking
Hiking is just as popular along the Byway as biking and winter sports. Summertime brings its own host of recreational activities to the six towns of the Green Mountain Byway. Hiking is a popular activity and is well supported by an abundance of trails. In Stowe, the paved Stowe Recreation Path is a favorite place for walking, as well as the Lamoille Valley Rail Trail, stretching through Morristown, Hyde Park, Johnson and on to Cambridge. More adventurous hikes lead to local summits, including Mount Mansfield, also part of the Long Trail. Other hikes include Brewster River Gorge and the Krusch Nature Preserve in Cambridge. View descriptions of suggested hikes from the  Green Mountain Club.
The Long Trail and Green Mountain Club
The first section of the Long Trail, the oldest long distance hiking trail in the United States, was cleared by 1912 in the Green Mountain Byway region. In 1930, the final link of the Trail was cut to Canada by volunteers of the Green Mountain Club. From its Headquarters and Visitors Center on the Byway the Green Mountain Club protects and maintains the Long Trail and side trails.
Public Lands
The Byway contains abundant public land including three state parks: Little River, Smugglers' Notch, and Waterbury Center. It also contains two state forests: Mount Mansfield and CC Putnam. Moss Glen Falls, Bingham Falls, and Stowe's town-owned Sterling Forest are all available as well as Cady Hill Forest, Mayo Farm, and Stowe Recreation Path.
For more information regarding area recreation opportunities, view the Stowe and Waterbury Recreation Guide or visit links for the Vermont Dept. of Forest, Parks and Recreation and Stowe Parks and Recreation.