Central Location, Recreation and Beer
Waterbury Village
Known for its central location, recreation and beer, Waterbury is also a hub for some of Vermont's most visited tourist destinations. These attractions include Ben & Jerry's Ice Cream Factory and Cold Hollow Cider Mill. Downtown Waterbury is home to a colorful mix of small, independent businesses, charming neighborhoods, and civic and cultural facilities.
Downtown Waterbury grew as a regional transportation and commercial center with the advent of the railroad in the mid-19th and early 20th centuries. This is reflected in the many historic structures erected during this period. Most of downtown is listed on the National Register of Historic Places as a historic district. Downtown Waterbury contains a broad collection of historically and architecturally distinctive buildings. Many of Waterbury's civic and institutional resources are located here. One will also find a mix of unique stores, acclaimed restaurants, public artwork, and cultural and historic institutions. With its central location, recreation and craft beer, visitors will find out why Waterbury is worth the trip.
Colbyville
The settlement of Colbyville includes the village area from the foot of Blush Hill northward on Route 100. It contains a mixture of residences, commercial services, and manufacturing facilities. The area was first settled in 1788. The upper and lower falls on Thatcher Brook in Colbyville provided power for several mill and manufacturing operations through the 1800's. Historical records suggest that the Colby mills were probably the first large mills in Waterbury. A schoolhouse once stood at the current site of a gas station. In the 1940's, the Colby Mansion was the Colby Private Hospital for the elderly; it is now used as an office building.
Waterbury Center
Along Route 100 and the nearby area to the east, Waterbury Center is one of Waterbury's earliest settlements. This area is comprised of recreation areas, residential neighborhoods, the Grange Hall & Cultural Center, and more municipal facilities. Nearby are more buildings listed on the National Register of Historic Places, including the Green Mountain Seminary Building, which provides affordable housing and an art studio. Waterbury Center is a well-preserved example of a rural agricultural settlement, pre-dating Victorian-era Colbyville and Waterbury Village.
In the midst of this eclectic mixed-use area are major tourist attractions that recall the area's central location, recreation, craft beer, rich agritourism and locally-grown business culture. Waterbury Center is also home to the Headquarters and Visitor Center for the Green Mountain Club, the organization that conserves and maintains the Long Trail.
Three State Parks
Waterbury is also home to three state parks. Camel's Hump State Park offers spectacular hiking up the namesake mountain. Little River State Park has hiking and bike trails, as well as access to the Waterbury Reservoir and tent and RV camping. The Waterbury Center State Park provides more recreational opportunities on the Waterbury Reservoir, including swimming, kayaking, canoeing, and stand-up paddleboarding. Rentals are available in the summer; motorized boats can also launch from there. The 860-acre Waterbury Reservoir is created by a flood-control dam. At 100 feet deep, it is a mecca for water activities of all kinds.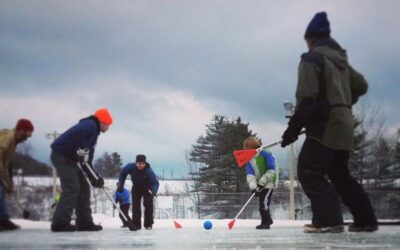 Submitted by DiscoverWaterbury.com There's no better way to beat the winter blues than at this popular winter festival where community members and visitors come together to play, laugh, sing, and dance! This 10-day event boasts a lineup of unique and exciting events...
read more