Submitted by Al Spitzer 
Hooray! We finally got our beloved Route 100 paving project finished, so now we can all ride in comfort from Waterbury and I 89 all the way to Jeffersonville.  So, while you're cruising and gazing at the scenery, I'd like to suggest a little side trip – something to extend your trip and get off the main highway for a few minutes.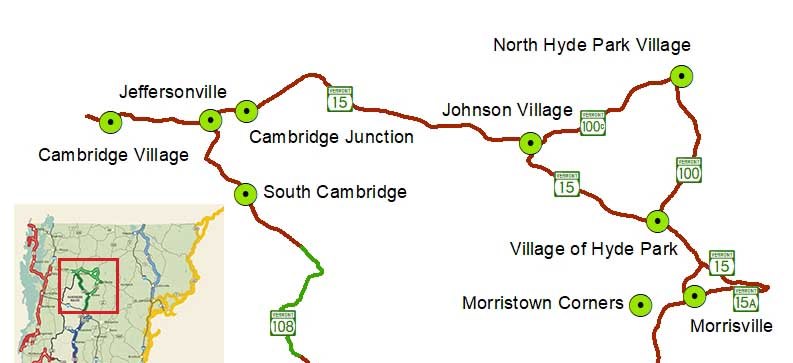 As you approach Hyde Park, and before you reach the "roundabout", there's a little green and white sign on your right, welcoming you. Now take an immediate right at Centerville Road and take a slower more scenic drive for a few miles ending up in N. Hyde Park on Ferry Street. If you turn right at the intersection of Route 100, you can see a huge, new Vermont National Guard facility and a beautiful stone yard across the road – you have to see it to believe it. 
From there, taking a left and heading back down Route 100 South, slow down and see our post office, and on your right the Gihon Valley Hall.  Learn its history by looking for us on facebook.  The village isn't very large, so you'll soon want to take a right onto Route 100 C. Check out the county fairgrounds on your left and the mountain views are pretty nice!  Soon, you'll come to the beautiful village of Johnson, if you follow the signs, you can connect to the Lamoille Valley Rail Trail and its facilities at the trail head off of Railroad Street. 
The valley along the river – all the way to Jeffersonville – is lined with farm lands old and new. The Rail Trail crosses Route 15 and soon you are at the intersection of Routes 15 and 108.There is lots more to see and learn on this little ride but there is only so much room to write.