By Sharon Harper, Go Stowe
Located at the foot of Mt. Mansfield, Vermont's highest peak, Stowe is a four-season destination that has hosted travelers for more than 200 years. One of the best things about Stowe is that you can enjoy world-class outdoor adventure, historical and cultural activities, and small-town charm—from mountain to Main Street—along with stunning views around every corner.
And the Green Mountain Byway can take you there. This 71 mile-long corridor along Vermont Route 100 and beyond connects Stowe with other northern Vermont towns including Waterbury, Morristown, Morrisville, Hyde Park, Johnson, Jeffersonville and Cambridge. These towns are included on the Vermont State Historic Register and maintain a vibrant cultural identity rooted in the tradition of rural Vermont. Like Stowe, they offer visitors access to many of Vermont's hidden gems.
Read on to find 4 reasons why Stowe and the Green Mountain Byway should be on your bucket list this summer and fall.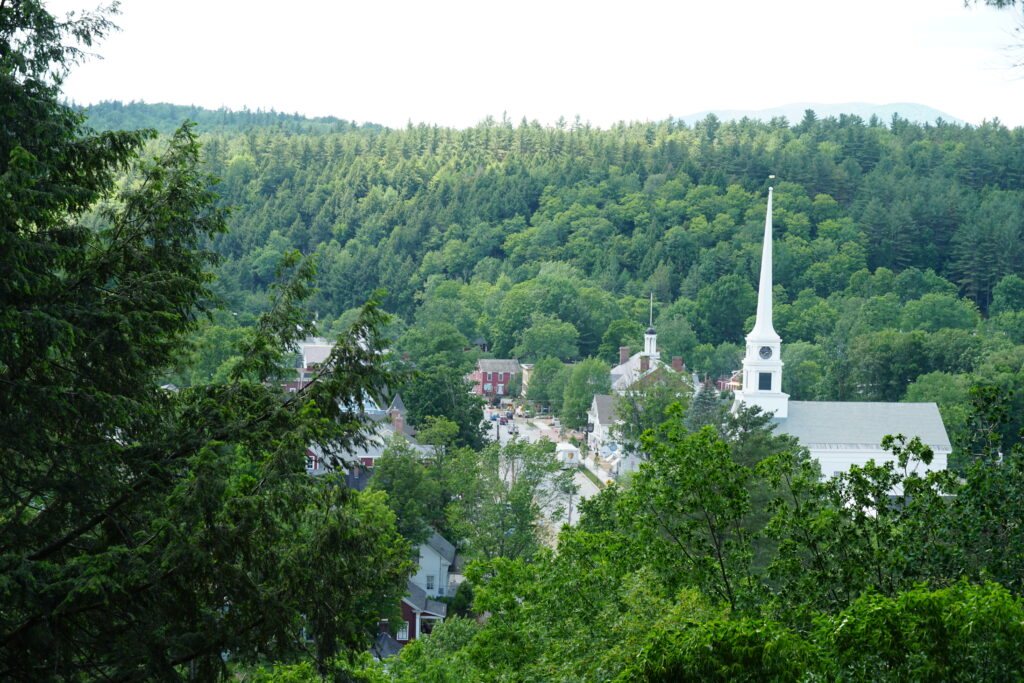 Iconic Scenery Among The Green Mountains
Recently named one of the "Top 10 Prettiest Mountain Towns in New England" by Yankee Magazine, Stowe's scenic views are sure to elevate your Instagram feed. Mount Mansfield is the perfect backdrop for summer hiking adventures and mountain activities year-round, but especially in the warmer months. Right off the byway is Vermont's tallest waterfall: Moss Glen Falls, an ideal location for a short and scenic hike. Trapp Family Lodge, originally built in 1950 and currently run by the family that inspired The Sound of Music, offers sweeping mountain views from its property from which you can get a trail pass to hike, bike, take a tour, and more.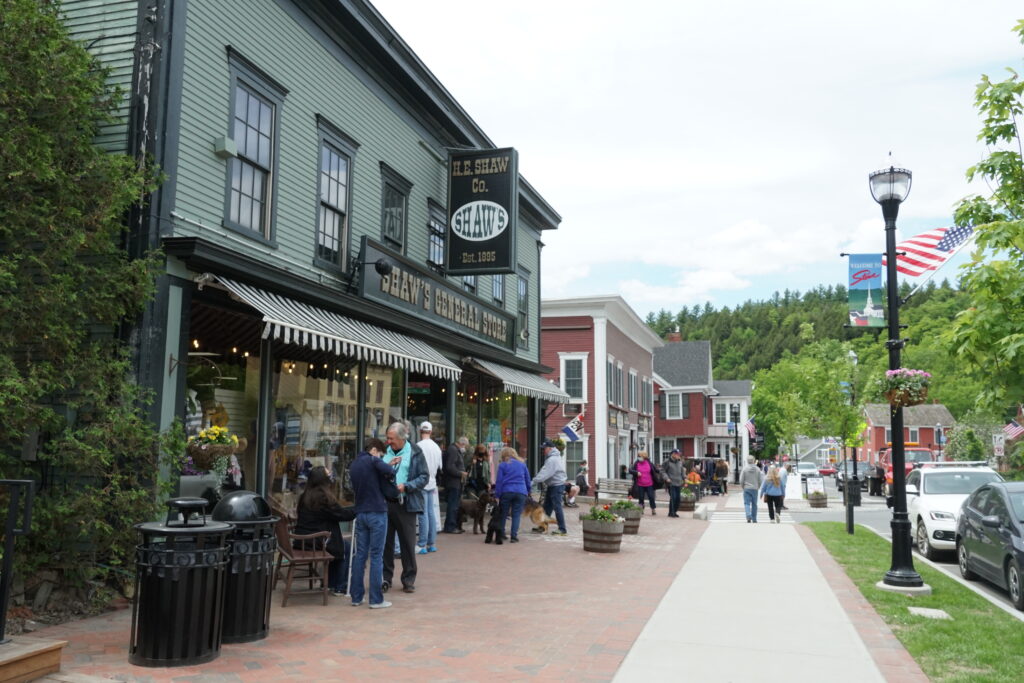 Small-Town Charm Steeped in History
It's no wonder Stowe, Vermont was named one of "16 Best Small Towns in America" by Travel + Leisure for the second year in a row. Between the northern Green Mountains and the Worcester mountain range lies the heart of Stowe: an historic downtown village with beautifully maintained buildings including quaint shops, restaurants and cafes, inns and hotels, and Vermont's tallest church steeple. Stowe is also home to three classic Vermont covered bridges including the famously haunted Emily's bridge, also known as the Gold Brook Covered Bridge. Built in 1844, Emily's Bridge is the oldest Howe Truss bridge in Vermont.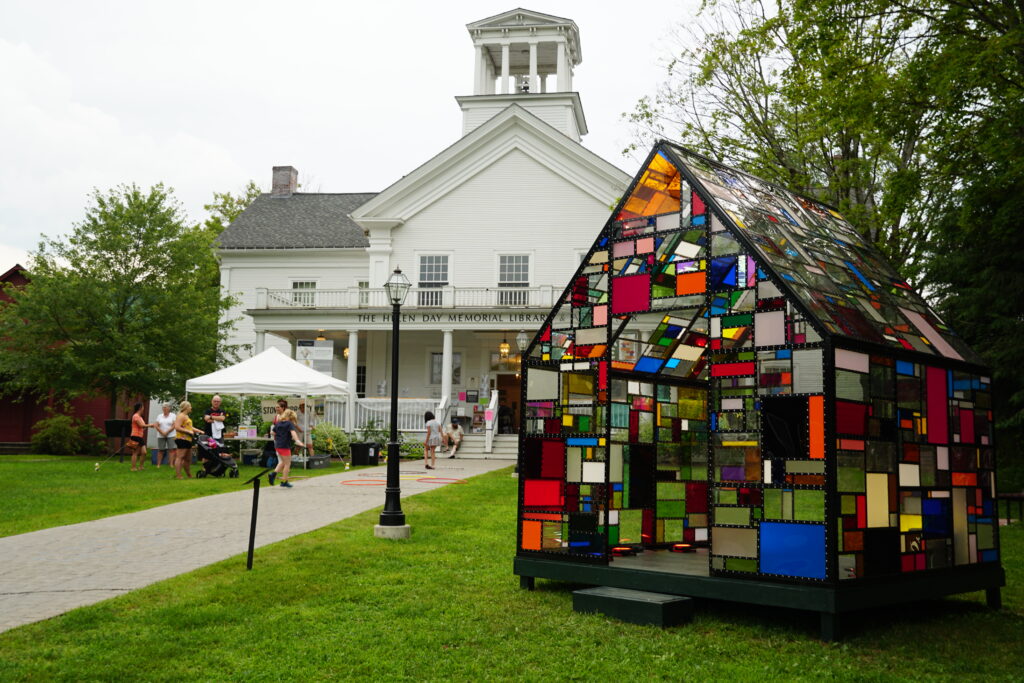 Vibrant Arts & Culture Scene
Surround yourself with the wonders of the unique arts and culture scene in Stowe, Vermont. Watch our town come alive as our Vermont vibe is mixed with lively music, unforgettable performances, and jaw-dropping art pieces. Summer in Stowe is filled with rich culture, creative events like Music in the Meadow and one-of-a-kind exhibitions like Exposed. Be sure to add some vibrancy to your Green Mountain Byway itinerary!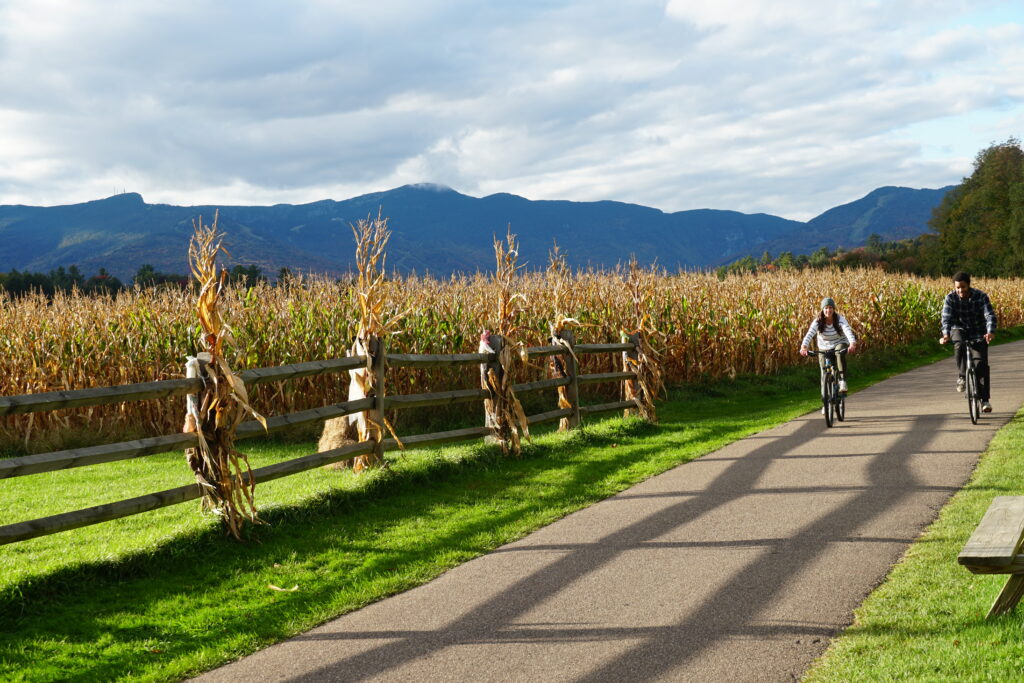 Abundant World-Class Outdoor Recreation
There are plenty of recreation opportunities in Stowe for all ages and abilities. After a windy and scenic drive through Smugglers' Notch along the Green Mountain Byway, you'll find hiking and biking trails, zip lining, disc golf, paddling adventures, farm stands and farm-to-table dinners, and more. With an extensive trail network, it's no wonder hiking is the most popular activity in the area. Vermont's historic Long Trail (LT) was built in 1910 by the Green Mountain Club and is the country's oldest footpath. The LT runs 273 miles between the Massachusetts and Canadian borders, and crosses over Mt. Mansfield and into Smugglers' Notch and beyond. Nearby, the Gondola SkyRide and Auto Toll Road at Stowe Mountain Resort are great ways to see the valley in the summer and fall. The Stowe Recreation Path is a flat 5.3-mile walking and biking path that meanders a river, connecting the downtown village to shops, restaurants and lodges along the way, and ending at a picturesque covered bridge. Paddling, another popular summer and fall activity, is also a great way to take in the scenic views.
There are endless possibilities in the charming mountain town of Stowe, Vermont. Check off your bucket list and experience the best of Vermont this summer and fall, and discover some of the things that truly differentiate Stowe right off the Green Mountain Byway.